We knew there was a way to make healthy Cheese balls for kids by adding spinach, and they turned out amazing!
Parents seem to be split with the idea of hiding vegetables. Some think it's a terrible idea and we should let the kids see all the veggies they are eating. Others think it's a great idea, because it enhances the health of the dish, usually in a natural way.  We already don't "see" everything in our food as it is.   Our cereals are fortified with vitamins and minerals, yet we embrace it. I am in the second camp. I think it's great. It doesn't mean hidden veggies need to replace eating vegetables that the kids can see.  Instead we include veggies both ways- hidden and exposed.
So, with that set up I wanted to share the veggies we added to these AMAZING CHEESE BALLS!! Potatoes and spinach! 
Why potatoes are a great ingredient for your kids
Potatoes have lots of amazing nutrients that can not be denied. Potatoes
An excellent source of vitamin C  (at 45% of the Daily value, it's more than a sweet potato!)
A good source of potassium. With 620 mg, potatoes have more potassium than a banana.
A good source of vitamin B6 : Vitamin B6 is important for carb and protein metabolism.
Fat-, sodium, and cholesterol free and 2 grams of fiber.
Why spinach is good for kids:
Spinach is actually well accepted by most kids.  It's flavor is mild, and it blends well with many different types of dishes that kids are already familiar with. Green smoothies have been a key way that many parents have gotten their kids to consume spinach.  But recipes like these cheese balls are also great!  Some reasons we love spinach include:
OUR LATEST VIDEOS
Spinach contains almost 92% water, 3.5% carbs (mostly from fiber) and 3% protein.  (source)
Spinach is also a good source of many vitamins and minerals like Vitamin A, Vitamin C, Vitamin K1, Folic acid, Iron, and Calcium.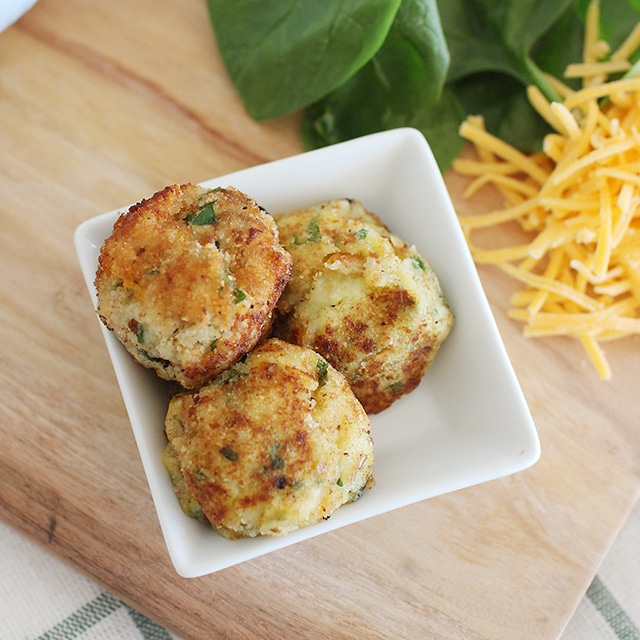 Other Spinach recipes we have that kids also love include:
Other potato recipes that your kids will love:
Healthy, Happy Eaters.
Join over 100k + subscribers and get family-friendly recipes, picky-eater strategies, lunch-packing tips and more, delivered each week to your inbox.